Free online platform provides tools, resources, and community to support successful health care implementation projects, improving quality of care for patients
November 17, 2020 – Ariadne Labs today announced the launch of Aria, a virtual implementation support platform and learning community developed to improve the quality of care for patients at all stages of the health care journey. Aria brings together health care implementers from around the world, providing a platform to connect, share, and learn from the community's collective expertise. The platform also offers resources to aid health systems and other members in implementing solutions across the Ariadne Labs portfolio.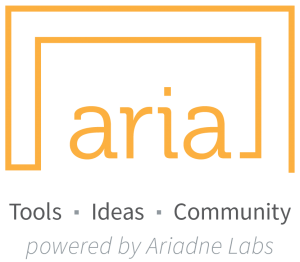 "Ariadne Labs prides itself on using a comprehensive design, test, and spread methodology," noted Evan Benjamin, MD, FACP, Chief Medical Officer of Ariadne Labs. "While each of our tools is rigorously designed and tested to ensure that it is user-friendly and effective, a tool can often only be as successful as its implementation. Aria offers a space for implementers from all backgrounds to learn from each other's experience and collectively work towards successful implementation projects that will improve health care for all patients."
Launched as a beta version in 2018 to a small group of users, the platform has since grown to 2,500 members from more than 30 countries. Now available to anyone interested in improving quality in health care, Aria provides members access to free webinars, publications, and implementation resources to accompany tools from Ariadne Labs' Serious Illness Care, Safe Surgery and Safe Systems, and BetterBirth programs. Tools from additional programs will be added in the coming months.
Aria members become part of a virtual learning community comprising stakeholders from a variety of backgrounds who are at varying stages of implementation within their health systems. In discussion forums, members have the opportunity to share their experience to benefit the broader implementation community, while learning from the expertise, advice, and feedback of other implementers. The platform also offers a designated space for Ariadne's diverse research community to exchange ideas and participate in research.
To learn more and become a member of the Aria community, visit www.ariadnelabs.org/aria/. To inquire about personalized implementation support and/or training for your system or organization, contact us at implementation@ariadnelabs.org.
About Ariadne Labs
Ariadne Labs is a joint center for health systems innovation at Brigham and Women's Hospital and Harvard T.H. Chan School of Public Health. We develop simple, scalable solutions that dramatically improve the delivery of health care at critical moments to save lives and reduce suffering. Our vision is for health systems to deliver the best possible care for every patient, everywhere, every time. Visit ariadnelabs.org to learn more and covid19.ariadnelabs.org to learn about Ariadne Labs' response to COVID-19.