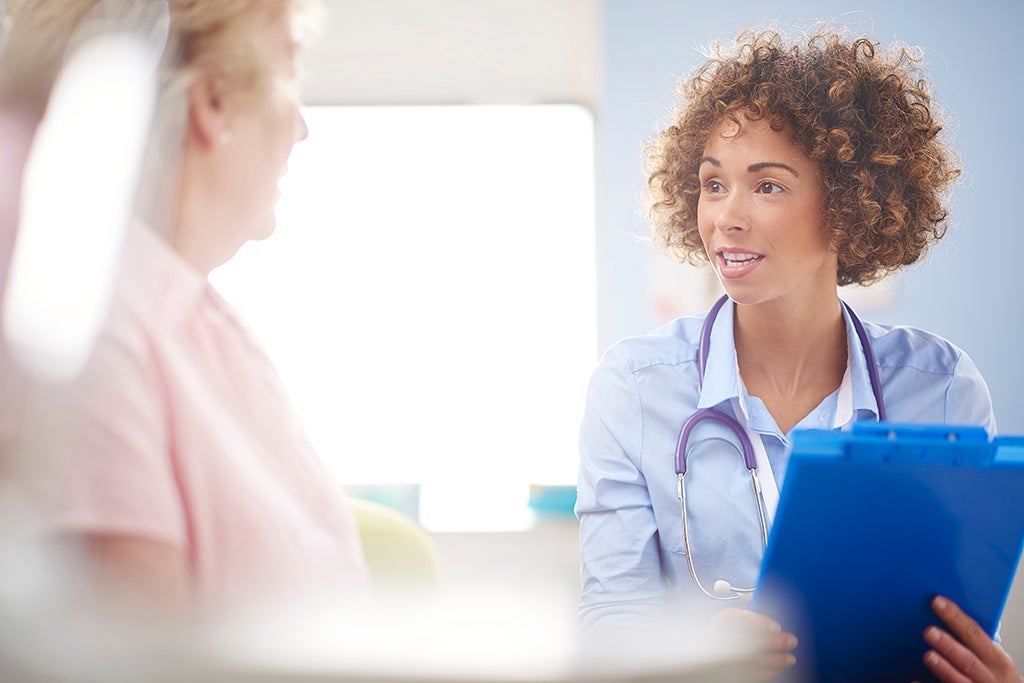 Clinician: "What are your most important goals if your health situation worsens?"  
Patient: "Just to spend time with the family. That's about it. And be here as long as I can. I'm not looking for a miracle. I'm just looking for a little time."
When we or those we love face serious, life-threatening illness, we have to make many personal and medical decisions that can be frightening, difficult, and confusing. Compassionate and clear conversation is the key to easing confusion and fear and ensuring that decisions about care reflect what matters most to patients. That might be spending time with family, taking a long dreamed-of vacation, or exercising all possible treatment options.
We know that individuals who have conversations with their clinicians about their values, goals, and wishes are more likely to receive the care they want, feel less distress, and report better quality of life. However, only a third of patients in their last year of life report having these conversations and, often, they happen too late in the course of illness to fulfill their most important wishes.
The Serious Illness Care Program was created by a team of palliative care experts at Ariadne Labs to address these challenges. At the center of the program is the Serious Illness Conversation Guide, which offers clinicians language to ask patients about their goals, values, and wishes. The guide is one element of a multi-component program creating system-level support for clinicians to have these important conversations with their patients.
A four-year randomized control trial developed by Ariadne Labs and tested at the Dana-Farber Cancer Institute examined the impact of the Serious Illness Care Program. Findings show that the program resulted in more, earlier, and better conversations between patients and their oncology clinicians, and led to significant reductions in emotional suffering for patients with advanced cancer. (For additional findings, read the "Testing the Serious Illness Care Program" section below.)
The program's goal is for every seriously ill patient to have more, better, and earlier conversations with their clinicians about their goals, values, and priorities that will inform their future care.
Developing a Scalable Serious Illness Care Program
In 2011, the Serious Illness Care team began developing and piloting a solution to address the gap between seriously ill patients' goals and priorities and the care they receive. Dr. Susan Block, the founding program director of the Serious Illness Care Program, and Dr. Rachelle Bernacki, the program's associate director, collaborated with the American College of Physicians High Value Task Force to conduct and publish a literature review of the barriers to high quality conversations. Dr. Block and Dr. Bernacki convened a group of experts from around the country to identify the best practices to address this challenge. The experts included palliative care specialists, general internists, cardiologists, oncologists, pediatricians, surgeons, patients and caregivers.
Next, the team developed the Serious Illness Care Program, an intervention that would facilitate more, better and earlier conversations between clinicians and seriously ill patients by equipping non-palliative care clinicians with the skills and system-level support needed to engage in comprehensive goals of care conversations. The program elements include:
A system to identify the patients who would benefit from having conversation about their goals of care
The Serious Illness Conversation Guide
Training, coaching and reference materials for clinicians on how to use the Serious Illness Conversation Guide and implement the program
A prompt for clinicians to conduct serious illness conversations at the right time
Materials that help patients prepare for the discussion and provide suggestions on how they may discuss their care preferences with their loved ones and caregivers
A system for documenting personalized patient goals and priorities in the electronic health record
The heart of the program is the Serious Illness Conversation Guide, a list of patient-centered questions designed to assist clinicians in gaining a more thorough understanding of their patient's life in order to inform future care decisions. The questions address:
a patient's understanding of their illness,
their preferences for information,
their personal goals,
their fears and worries, as well as their sources of strength,
the abilities they find most important to their daily life and tradeoffs they are willing to make for the possibility of more time, and
how much their loved ones know about their wishes.
Testing the Serious Illness Care Program
Ariadne Labs developed a four-year, randomized control trial of the Serious Illness Care Program that was tested at the Dana-Farber Cancer Institute. Released in 2019, the findings were published in two papers, JAMA Internal Medicine and JAMA Oncology.
These findings show that the Serious Illness Care Program resulted in more, earlier, and better conversations between patients and their oncology clinicians, and led to significant reductions in emotional suffering for patients with advanced cancer. On average, patients and clinicians had a serious illness conversation 2.4 months earlier—almost five months before death. The conversations were centered on what matters most to patients, with 90 percent of patients discussing goals and values.
While well-meaning clinicians may avoid these conversations because they don't want to frighten or depress patients, this intervention produced the opposite effect. As a result of the intervention, the proportion of patients with moderate to severe anxiety and depression was reduced by half, and the anxiety improvements were still evident 24 weeks later. More accessible and more complete documentation of these conversations in the electronic medical record was another result of the intervention. The study was unable to demonstrate whether the conversations resulted in care that aligned with patient goals or brought about greater peacefulness at the end of life. The intervention did not impact survival rates.
This study is the first to demonstrate meaningful improvement in patients' psychological symptoms from a structured communication intervention implemented by oncology clinicians, rather than palliative care or psychology specialists. The study also shows that a multi-component intervention, using tools, training, and systems-change strategies can address the most common barriers to communication in a clinical setting and improve the quality, timing, and occurrence of patient-centered conversations.
Researchers conducted a separate, qualitative study to characterize the content of serious illness conversations and identify opportunities for improvement. Data from this exploratory study published in the Journal of Palliative Medicine in 2019 suggest that seriously ill patients are open to discussing values and goals with their clinician. Yet, clinicians may struggle when disclosing a time-based prognosis and in responding to patients' emotions.
We have also conducted research among different patient populations, including high-risk primary care and chronically critically ill patients. Learn more about this research here.
Spreading the Serious Illness Care Program
Community of practice: Our online community of practice brings together clinicians interested in serious illness care for sharing, collaboration and learning. Today, more than 1000 community members from around the globe are connected through the online forum and webinar series. Members can access resources, post and respond to questions, and share their experiences implementing the program.
Innovation partners: Our innovation partners are leading health systems committed to transforming the care of patients with serious illness. Through these partnerships, Ariadne Labs provides ongoing support to build internal teams who bring high quality, compassionate communication to seriously ill patients and their families. We work closely with our counterparts at each site to:
customize the program to meet the needs of their setting,
deliver expert training on communication skills to clinicians of all disciplines and specialties, and
implement systems changes that facilitate measurable, sustained improvement in serious illness communication.
Our innovation partners, who include the United Kingdom's Clatterbridge Cancer Centre National Health Service (NHS) Foundation Trust, Lahey Health, Lowell General Hospital, and Baylor Scott & White Health in Texas, vary in size and patient population. The depth of knowledge gained from these diverse settings helps us understand and share the best practices for adapting and implementing a systematic approach to improving the quality of communication and care in serious illness.